Slide
Unlock the Power of WhatsApp Chatbot to Elevate Your EE-commerceSales and Customer Support!
Transform Your E-Commerce Experience with a WhatsApp Chatbot for Seamless Customer Service.
Try out our chatbot and enjoy the experience.
To chat from your own mobile number
OR
To chat from another mobile number
A WhatsApp chatbot in the e-Commerce industry is an automated tool that can enhance the customer experience and streamline operations for online businesses. By integrating with WhatsApp, this chatbot can provide a convenient and accessible way for customers to access information, make purchases, and resolve issues. For example, the chatbot can provide real-time assistance with product recommendations, order tracking, and payment options. It can also offer personalized promotions and customer support, helping to build long-term customer relationships. For businesses, the chatbot can automate routine tasks such as order processing and shipping notifications, reducing costs and improving efficiency. By leveraging the popularity and accessibility of WhatsApp, e-Commerce chatbots can help businesses stay competitive and improve their bottom line.
Here are some potential use cases of WhatsApp chatbots in the e-Commerce industry: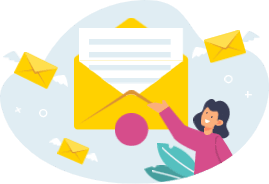 SUBSCRIBE TO OUR NEWSLETTER